Episodes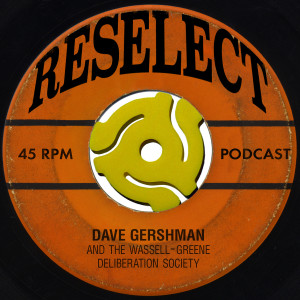 Friday May 22, 2020
Friday May 22, 2020
Episode 16: Sadly, the music world lost the Cars' songwriting mastermind, Ric Ocasek, in September 2019, at the age of 75. In this episode, Dave, Sarah, and Eric go for a ride with the Cars, starting the journey at their self-titled debut album in 1978 and not stopping until they hit Heartbeat City, released in 1984. Hop in and join us! Please let us know your thoughts about this episode or the album by leaving your comments at ReselectMusic.com.
NOTE: As with the past few episodes posted, this one was recorded several months before (and the intro not long before) the coronavirus issues currently affecting all of us, hence the lack of any mention therein. Then again, we're sure you don't mind not being reminded of the current situation while listening. Our best wishes go out to all of you: stay healthy and hang in there!
Featuring:
Dave Gershman
Eric Greene
Sarah Wassell
LINKS!
The Cars, 1978: https://www.amazon.com/Cars/dp/B001OB0VNK
Candy-O, 1979: https://www.amazon.com/Candy-Cars/dp/B00124FRYM
Panorama, 1980: https://www.amazon.com/Panorama-Cars/dp/B001OB61JI
Shake It Up, 1981: https://www.amazon.com/Shake-Up-Cars/dp/B001OB7G6U
Heartbeat City, 1984: https://www.amazon.com/Heartbeat-City-Cars/dp/B001OB2CF0

Other Songs Referenced:
The Beatles, "I Will": https://www.amazon.com/I-Will-Remastered/dp/B01929HYKI
Flash and the Pan, "Walking in the Rain": https://www.amazon.com/Walking-In-the-Rain/dp/B004N4GITG

READ: The Reselect Blog: https://www.reselect.com
VISIT: The Reselect Podcast site: https://www.reselectmusic.com
NOTE: Song snippets are played along with the commentary on the Reselect podcast for purposes of illustration only, in accordance with U.S. copyright law's Fair Use doctrine. Copyright for all songs is held strictly by the respective songwriters; please purchase downloads of the songs or physical copies of the albums if you'd like to enjoy them in their entirety with good sound quality.