Episodes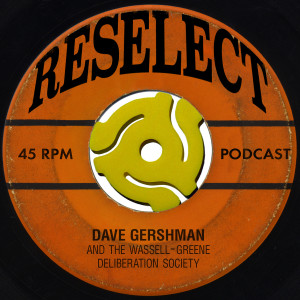 Wednesday Jul 29, 2020
Wednesday Jul 29, 2020
Episode 18: After a fairly long break, Eric, Dave, and Sarah are back for a fun discussion of the always entertaining Tom Waits and his classic 1985 album, Raindogs. Considered by many to be his best album (in a very competitive field!), Raindogs absolutely barks with Waits' sometimes growling and sometimes gruffly crooning vocal instrument, as well as an array of wheezing calliopes, oomping tubas, and myriad other uniquely Waits-ian found sounds. But above all else is the songwriting -- few people can write a lyric and sing it like Tom.

Please let us know your thoughts about Tom Waits and Raindogs at ReselectMusic.com! And leave us some requests for future episodes!
Featuring:
Dave Gershman
Eric Greene
Sarah Wassell
LINK!
Tom Waits, Raindogs, 1985: https://www.amazon.com/Rain-Dogs-Tom-Waits/dp/B000W20NXU/
READ: The Reselect Blog: https://www.reselect.com
VISIT: The Reselect Podcast site: https://www.reselectmusic.com
NOTE: Song snippets are played along with the commentary on the Reselect podcast for purposes of illustration only, in accordance with U.S. copyright law's Fair Use doctrine. Copyright for all songs is held strictly by the respective songwriters; please purchase downloads of the songs or physical copies of the albums if you'd like to enjoy them in their entirety with good sound quality.