Episodes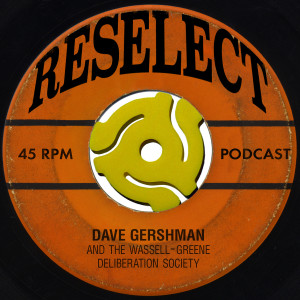 Saturday Feb 01, 2020
Saturday Feb 01, 2020
Episode 9: In which Dave, Eric, and newcomer Sarah discuss the music of the fantastic Talking Heads, from their 1977 debut, Talking Heads: 77, up through their 1985 album, Little Creatures. And if you like the addition of Sarah to the mix, you're in luck: she's sticking around for more episodes to come!
Featuring:
Dave Gershman
Eric Greene
Sarah Wassell  (so now does the "Wassellgreenes" reference on the Reselect logo make sense?)
LINKS!
Talking Heads on Amazon:
Talking Heads: 77, 1977: https://www.amazon.com/Talking-Heads-77-TALKING-HEADS/dp/B000002KNU
More Songs About Buildings and Food, 1978: https://www.amazon.com/More-Songs-About-Buildings-Vinyl/dp/B00EX465XA
Fear of Music, 1979: https://www.amazon.com/Fear-Music-TALKING-HEADS/dp/B000002KNY
Remain in Light, 1980: https://www.amazon.com/Remain-Light-Talking-Heads/dp/B001OGRQAQ
Speaking in Tongues, 1983: https://www.amazon.com/Speaking-Tongues-Talking-Heads/dp/B001OB662K
Little Creatures, 1985: https://www.amazon.com/gp/product/B001PJ1QJY

Other Songs Referenced:
The Modern Lovers, "Roadrunner": https://www.amazon.com/dp/B000RGCPXW

READ: The Reselect Blog: https://www.reselect.com
VISIT: The Reselect Podcast site: https://www.reselectmusic.com
NOTE: Song snippets are played along with the commentary on the Reselect podcast for purposes of illustration only, in accordance with U.S. copyright law's Fair Use doctrine. Copyright for all songs is held strictly by the respective songwriters; please purchase downloads of the songs or physical copies of the albums if you'd like to enjoy them in their entirety with good sound quality.